UPDATE: (June 2017) – Researchers with Special Pathogens Laboratory announced that they tested 89 different Stӧckert 3T Heater-Cooler Systems between July 2015 and December 2016, and found that ONE-THIRD (1/3) of them were contaminated with "M. Chimaera", the bacterium associated with fatal infections in open-heart surgery patients (four of the units also tested positive for the bacteria that causes Legionnaire's disease)!
---
A number of cardiac surgery patients have fallen  ill and died from nontuberculous mycobacterium ("NTM") infection after open-heart/cardio-thoracic surgery using a contaminated heater-cooler/heart-bypass device known as a Stӧckert 3T Heater-Cooler System. The Washington Post (Oct. 13, 2016) reported that as many as 500,000 patients nationwide could be at risk. According to the Centers for Disease Control and Prevention ("CDC") there have been a total of 28 confirmed infections. The U.S. Food & Drug Administration ("FDA") reports at least 12 patients may have died as a result of NTM infection.
Reports from the CDC and FDA indicate that
Stӧckert 3T Heater-Cooler System (heart-bypass) devices are contaminated with a slow growing type of NTM which causes the development Mycobacterium chimaera infections. "M. Chimaera" is a slow growing bacteria commonly found in soil and water, including tap water. It is typically not harmful to humans and usually only infects people with weakened immune systems. However, patients who have had open-heart/cardio-thoracic surgery with bypass using the Stӧckert 3T Heater-Cooler System may have become exposed to NTM during their procedure, and could be at risk of developing M. Chimaera.
Heater-cooler/heat-bypass devices like the Stӧckert 3T Heater-Cooler System are used during cardio-thoracic surgeries to warm or cool a patients blood temperature for optimal surgical outcome. The Stӧckert 3T Heater-Cooler System includes water tanks that provide temperature-controlled water to external warming and cooling.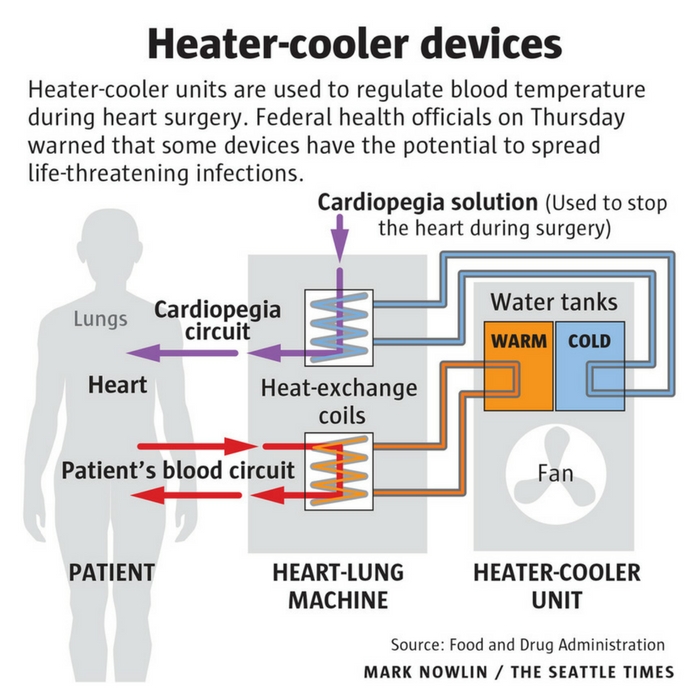 Although the water in the machine does not come into direct contact with the patient, what is now known is that the water may become contaminated with NTM and transmitted through the air (aerosolized) through the device's exhaust fan into the surgical "environment", and then into the patient through the open chest cavity.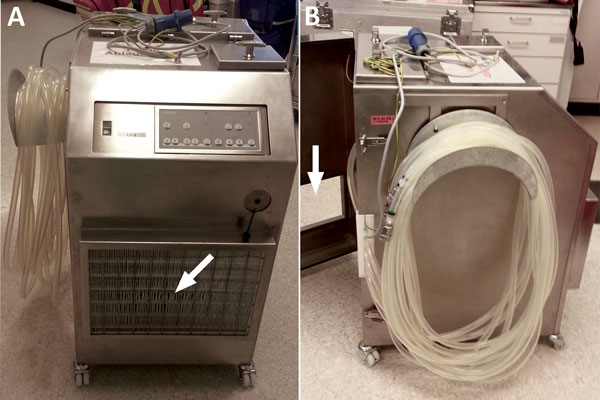 M. Chimaera infection is difficult to detect because infected patients may not develop symptoms of infection for up to four years after initial exposure. The CDC and FDA have issued warnings encouraging patients who have had have had open-heart surgery in which a Stӧckert 3T Heater-Cooler System was used to seek immediate medical attention if they experience any of the following symptoms:
• Night sweats
• Muscle aches
• Unexplained weight loss
• Unexplained fever
• Fatigue
• Redness, heat, or pus around the surgical incision
If the infection is detected early the chances of successful treatment with antibiotics are good.  However, late detection is related to a much higher mortality rate; approximately 50%.
Here is a list of some of at-risk patients who have been notified of the risks and issues, the number of patients identified with NTM infections, and the dates of surgery:
If you or a loved one have had open-heart/cardio-thoracic surgery in which a Stӧckert 3T Heater-Cooler System (heart-bypass machine) was utilized, regardless of whether you have been diagnosed with NTM and/or M. Chimaera, contact us online or call immediately at 1-866-252-3535.
Timeline of Stӧckert  3T Heater-Cooler Infection Problems
January 2010: FDA receives first report of M. chimaera infections linked to open-heart surgery heater-cooler systems.
August 2014: M. chimeara found in the production line and water supply at the 3T manufacturing facility.
July 2015: The manufacturer issues a "corrective action" for the Stӧckert 3T system, with new cleaning instructions and instructions on how to determine whether it is contaminated.

The FDA later determines this to be a 3T Heater-Cooler recall

.
October 2015: The FDA issues a safety communication warning about the potential risk of infections involving heater-cooler units of all types used during open heart surgery.
December 2015: The FDA issues a warning letter to the manufacturer of the Stӧckert 3T system, after finding serious violations at facilities in Munchen, Germany, and Arvada, Colorado. The agency issues an import alert restricting the availability of Stӧckert 3T devices to healthcare facilities where its use is determined to be medically necessary.
April 2016: European study of an M. chimeara infection outbreak in Germany links all of the cases to the Stӧckert 3T Heater-Cooler system.
June 2016: The FDA warns that the Stӧckert 3T heater-Cooler System appears to be linked to infections. Days later, FDA scientists and experts weighed in on contamination concerns related to all heater-cooler systems at an FDA advisory board hearing.
October 2016: The FDA updates its Stӧckert 3T System warning and provides recommendations to doctors and patients, calling on doctors not to use any Stӧckert 3T system manufactured before September 2014 unless it is a life-or-death situation and no other system is available.